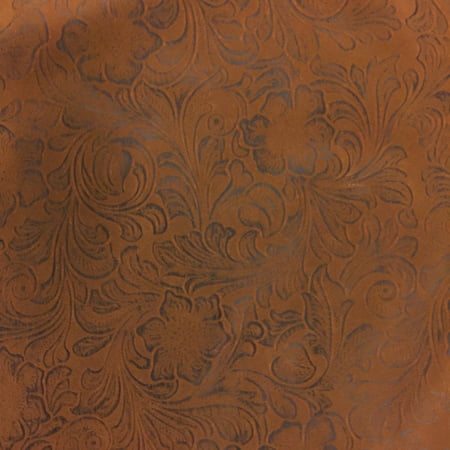 This carved, embossed Jacobean fabric features easy-sew quality and is great for home decor and apparel.
Shason Textile Faux Leather Suede Home Décor Fabric:
Color: brown
Multiple quantities are continuous yards
Base fabric: 100 percent polyester
Coating: PVC
Flocking: 100 percent Rayon
Width: 53/5"
Care: hand wash separately, cold water. Do not use bleach and do not use softener. Line dry. Do not iron.
Customer Reviews
good product, good price
After purchasing another color/pattern vinyl of this brand-same price per yard- I ordered this one. I will warn any one that if you run this through the washing machine as it dries is will shrink a bit lengthwise. I use this to make dining table covers, cutting it the exact shape and size of the top of the table. The 1st one, after washing it 2 times and running it in the dryer once, has shrunk approx. 2 " out of 85" original length. No shrinkage side to side.furthermore
Shrinkage in the mail?
I order a quantity of 2 on this item thinking I would get 2 yards (72" X 55") going by the 36" x 55" size listed in the specifications, but when I received it, it only measured 55" X 55" (almost perfectly square). I like the fabric itself and hoping it will hold up to my dogs.greenphantom61
Perfect
Love this fabric. This is my 3rd purchase of it. I upholster chairs with it, cushions and made pillows. Sturdy, easy to work with, easy to clean. My cats don't bother it and hair is easy to clean off.painted1
Faux leather......maybe
I love this fabric! I made pillows with the first yard I got, and after that I bought 3 more, hopefully to recover my couches! The pillows hold up well against my kids tossing them around and laying down on them! The feel of the fabric is amazing. It really feels like leather, doesn't smell like it lol but it's definitely a great fabric!Busta08
You may also be interested in