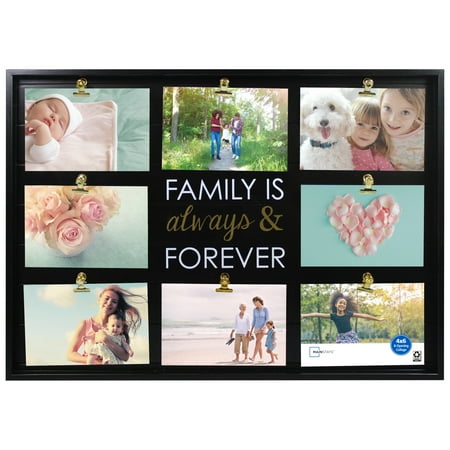 Group together photos of your family, friends or wonderful memories with the Mainstays 20" x 15" 8-Opening Black Plank Collage Frame. In the center of the frame, elegant white and gold text reads, "FAMILY IS always & FOREVER." For quick photo changes, there is no glass on this frame. Use the gold metal clips to easily display eight of your favorite photos or artwork. This modern photo frame is made from a durable plastic construction and can hold eight 4" x 6" photos. Simple to set up, the frame includes all the hardware that is needed to hang on the wall. This traditional and contemporary black collection frame is designed with a clean, traditional look that will make an ideal addition to any home, office, classroom or party.
Customer Reviews
Very nice
I really like this frame for our intended use. The clips make it very easy to change photos without a lot of hassle. If the photos are smaller can use removable glue dots to place the photos instead. Love the blue sky and clouds phot backdrops as they make a nice matting for each photo. Frame is heavy plastic with center made to look like planks. Can use and hang the frame either portrait or landscape and the clips work either way. Had more than 8 photos so had to purchase 2 frames.ChurchSecretary
Makes for a great gift!
I love this item. It was easy to assembly the picture layout. Only issue I had was several of my photos were verticals pictures and this frame is for horizontal photos, so keep that in mind when making your purchase.
Love it!
Its hard finding cute, good quality picture frames in this price range. I love it! It looks so nice on my wall.Emma
You may also be interested in