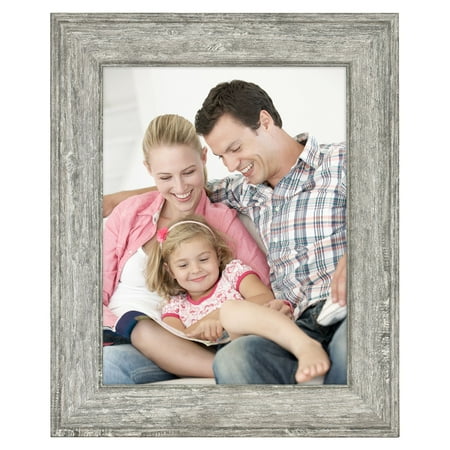 Display your favorite captured moments with the Mainstays 5" x 7" Tabletop Picture Frame, in Rustic Gray. Made from durable plastic, this frame features a faux rustic wood finish that works in just about any type of room décor, especially with rustic or coastal inspired home furnishings. Each Mainstays 5" x 7" Tabletop Picture Frame includes a glass front that will keep your treasured prints dust free and shielded from everyday events. Each Mainstays frame comes with two triangle hangers and a multi-directional inset easel that will allow you to display your frame either horizontally or vertically. If you decide to hang this picture frame on a wall the inset easel tucks away into the back of the frame so the frame will hang flush on a wall. Use several of the Mainstays 5" x 7" Tabletop Picture Frames to create a unique gallery wall highlighting your memories along a hallway, on a bedroom wall, or even in your home office. Alternatively, combine with other Mainstays picture frames (sold separately) to create a one of a kind statement in your space.
Customer Reviews
the quality, size and selection....must have item!
awesome for the price..... breathtaking look...looks way more high end than frames I paid way more for in the past ....the design ...color and the look....make my pictures look way better and awesome than other frames I had them in....love it ...
going to be buying more to finish my "family" wall collage I'm doing....
they stand up on a table ....but also hangs ...
there awesome....
all I can say....is get yours todayJoseph
Nice looking frame, good quality.
Very nice frame. It holds one of my favorite photos of my beloved little dog who passed away after 16 years.BradleyJ

Nice frame. Great value.
Package was delivered in the rain and was not covered! Luckily, it was not damaged.
You may also be interested in