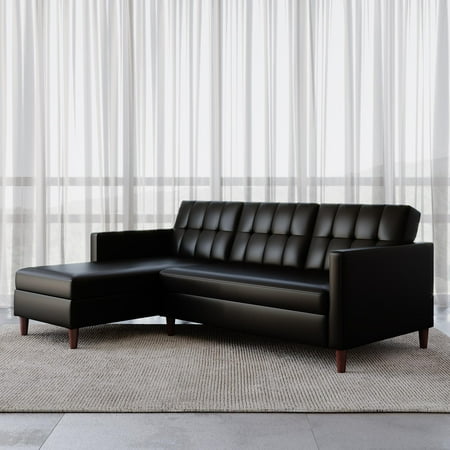 In need of a practical and stylish sofa? The Hartford Storage Sectional Futon is the perfect small space solution. Available in Faux Leather upholstery or Chenille, this futon is comfy and compact and will nicely compliment your living room. Enjoy from its many multi-functional features: choose what side your prefer for the chaise, store some blankets in the chaise compartment, lounge comfortably with the reclinable back or convert it into a Queen size bed and bed by adding the Hartford Ottoman. The Hartford is brilliant decorating for even the tiniest places!
Practical and stylish sectional sofa with multi-position back and interchangeable chaise Perfect small space solution with convenient space saving storage compartment
Available in Faux Leather or Chenille upholstery in a variety of colors
Futon & chaise are interchangeable
Easy to assemble
Click-clack technology makes this futon sleeper easy to open and close
Convertible futon sleeper is ideal for sleeping, sitting and lounging
Ships in two boxes
Sofa dimensions: 33"L x 54.5"W x 32.5"H
Bed dimensions: 69"L x 84"W x 17"H
Chaise dimensions: 60.5"L x 29"W x 32.5"H
Sofa carton dimensions: 43"L x 52"W x 13 "H
Chaise carton dimensions: 27"L x 69.5"W x 13"H
Weight limit: 600 lb.
Customer Reviews
Great buy!
It's a beautiful couch out of the box, and very easy to put together. It's smaller than you may think though - with the back up the seat depth is just enough for one person, and your feet will hang over the chaise part. If you want to snuggle you'll have to lay down the back all the way. The storage part is great so far.Stephanie

Sean
You may also be interested in