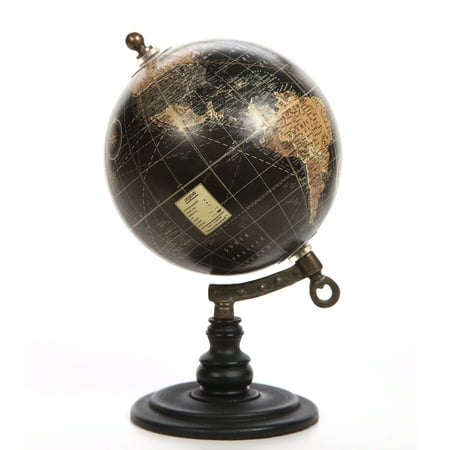 Better Homes and Gardens Decorative Table Top Globe Item size is 8.50 inches in height by 5.00 inches in diameter Ideal size to be display on a desktop or book shelf Made of 100% Metal and Wood Features a spinning Earth balanced on a metal and wood stand Designed in a black finish with neutral tone continents Great gift for the travel enthusiast A Traditional Table Top Statue Decoration that can be placed in your living room, den or study.
Table Top Statue
Whimsical Decor
Great item for desktop, bookshelf, or center piece
Not to be used for educational purposes
Better Homes and Gardens Decorative Table Top Globe is a traditional piece that is great for displaying in your office, den, or living room. Explore the world for a fraction of the cost and without any of the jet lag, all from the comfort of your own home or office. The ocean is represented by a deep black print, while the earths continents are visible in brown neutral tones. It stands at 8.5 inches in height, which makes it a perfect little accent piece for your desk or book case. Let this decorative piece inspire you to plan a new adventure, or just reminisce about a journey you have already taken. If you are an avid world traveler, you will love this piece as part of your collection. Either way, you will have the world at your fingertips and the best part is that no passport is required!
Customer Reviews
Perfect for my Den Console
I saw this cute smaller globe in a Walmart Store about a year ago and almost bought it then but waited-so when I recently ordered it was thrilled with the colors on itLauderbabe
Good for desk decor!
I was looking for a decorative globe rather than for educational purposes. This globe is small but a good small, perfect for computer desk decor. The base is plastic but a good hard plastic material, you cant tell its plastic until you touch it. I recommend this item for decor only. Its very cute and for the price, cant beat that! Great buy!Nathaly

smaller than I thought it would be but that is ok. I have always wanted one.i have it in my livingroom to go with my furniture. it looks great.Cassandra
You may also be interested in